Ever doubted what LinkedIn members' count is? It has crossed over 500 million members, scattered in over 200 countries!!
This makes LinkedIn- #bestsocialmedia for professional posts, jobs, and resumes sharing.
Every single fish in the corporate ocean and freshmen have them. Making your social life formal and your CV informal pretty much sums up what LinkedIn is. But would it come as a surprise told you that you could do more than publish your work updates and praise your colleagues on LinkedIn?
What if we told you there is a whole new world to LinkedIn where you can self-publish your content? Introducing LinkedIn Pulse!
Do you know what biggies like Richard Branson of the Virgin Group, Bill Gates of Microsoft, Ex-American President Barack Obama, and many more are doing on LinkedIn? As a contributor, they are sharing some business wisdom with the masses Via the LinkedIn Pulse feature.
What is LinkedIn Pulse?
LinkedIn Pulse is a target audience-centric news aggregation platform. Using LinkedIn Pulse, you can establish yourself as a leading expert in your industry. Publish articles, answer questions, create awareness; everything can be done from LinkedIn pulse!
Publishing on LinkedIn is now as simple as navigating your homepage. Just click Write an Article at the top.
How does LinkedIn Pulse work?
Now that is a very valid question. You see, LinkedIn works on an algorithm that makes your reach very specific. The content you post shows up on the priority on the feed of people from the same industry, interests, or connections. Now you don't have to worry about "getting noticed," publish a blog on the LinkedIn pulse and see the magic happen.
Additionally, you can reach out to this URL: https://www.linkedin.com/feed/follow/ and check the suggestions grid that you might prefer to follow.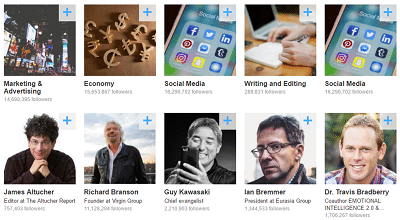 Initially, the receiver will see a normal feed, their connections' work updates, a few articles of their interests, etc. But as and when they start liking the posts and following a few hashtags, their algorithm gets redefined, and they start receiving posts on their feed based on their interests. Once the algorithm sets in motion, they will start seeing your posts; the more your reactions and comments, the greater your reach!
Differences between LinkedIn and LinkedIn pulse
For a moment, consider LinkedIn as your resume daily diary that you keep updating regularly based on your work experiences and LinkedIn pulse as the blog posts that you write as and when you feel interested or overwhelmed or critical about your work.
Now work status, congratulatory messages, work anniversary updates are succinct. Write only as required so that the message is received loud and clear. For instance, you may write something on the lines of "Hey! I started working at Nintendo as a backend developer" or "It is with immense happiness and pleasure that I announce my job at Nintendo as a backend developer" one generally doesn't share a post like "Ever since I was a child coming home after school…." And go on to tell a whole story about why Nintendo is your dream job. You could, but you generally don't.
That's where blog posts or "Pulse" come into the picture. Here you write the story of your job, about a recent experience, a commendation, or about the latest innovation in your industry. Since this post will be bulky, usually, they are not very common. Hence whenever you write a blog, it will be shown at the top of your homepage, and all your first connections will see the post as and when they open their LinkedIn. The LinkedIn algorithm is simple. Your first connections react to your post; it reaches their first connections, and so on.
Reasons why you should use LinkedIn pulse
The first question to buffle your mind would be, I have my blog page. Why should I shift to LinkedIn pulse articles?
My page is my identity, unique to me, on LinkedIn. I would be a fish in an ocean! And that is a very valid doubt. We had it too! But the answer is simple- Reach. There is no better place online than LinkedIn to reach the maximum audience of your industry-specific articles. It is a simple branch analogy.
How to publish on LinkedIn pulse
We have answered the "what," "why," "where" of LinkedIn Pulse. Now, it's time to answer the "when" and "how" of it.
Just like any other content creator out there, you need to start with a game plan.
Pick a clear message and start writing
Know what you want to write about. Do not get confused after you start. Have a prominent idea in your head, and then start writing the article.
Create a flowchart to answer the wh- questions related to the topic.
This makes it simpler for you to write the article. Here is an example of how you should make a flowchart:
Once you have this ready, proceed to the next step.
Make sure your article has headings, subheadings, and pointers so that the reader's attention is on it all the time.
Include Pictures
Always try to include pictures in your articles so that it doesn't tend to get too dull. If you can't find the image you are looking for, make one yourself.
Check for Plagiarism and Grammar
Once everything is drafted, check for grammar and plagiarism. These are the greatest devils of articles.
Finally, when you have made sure everything is perfect, publish the article from the "post" button at the end. Et voila! Your first pulse is on the market!!
Tips for LinkedIn pulse
Be sure you want to get into this
Many people start with great enthusiasm. However, gradually, they lose interest and are back to square one. There will be times when your reach will be attacked, and you will lose motivation. But if you aim to be an industry expert, you need to keep working on it frequently.
Set a timeline and stick to it.
Do not publish in a staggered manner, and do not publish over frequently. This is the key. Be stable from the very start. Do not get too excited and publish all at once. Keep a gap. Otherwise, you will be exhausted of ideas and have very little to contribute later. Publish in a set interval, like once a week, once every fortnight, once a month, etc.
Always publish your LinkedIn pulse articles SEO-centric so that they are easy to find in the search box. This way, you don't need to depend on your connections to get your articles a good reach; the search bar will also help.
Make sure you go through a few linked pulse examples before you write your own to get an idea of how it must be. Venturing into unknown territory without knowing its geography could be a dangerous step. Here is a LinkedIn pulse example you could refer to: "Distillation Processes, Types, and its components, Process Variables, Factors Affecting on it." By Manoj kumar Pipaliya.
Now that you are well versed with LinkedIn pulse and how to be a part of it go on rockstar. Be an industry expert! Hoping to see your article the next time we open LinkedIn.