Have you ever got a business idea that you think might be the "Next Best thing" in this digital world? Now suppose you have it all figured out, the production, the shipping, the domain name, you have it all ready. But there is still something off! A centralized grip on all your digital activity. Well, worry not.
That's where Cpanel comes into the picture!
Cpanel is an online control panel tool that helps publish your website, send emails, and monitor traffic. The most beautiful perk being you can connect Cpanel email to Gmail and make the most out of your workplace email address.
How To Create Your Cpanel Email
Lucrative as it sounds, one must start from the beginning, creating a Cpanel email account and then connecting Cpanel email to Gmail.
To do this:
Go to your Cpanel page and log in to your account.
Go to the Email section and click Email Accounts.
After redirected to a page, click on the Add Email Account tab and fill out the form that opens.
The fun part is assigning a mailbox quota to a particular email address. Once filled, click Create Account, and after a brief break, you have a brand new email account!
But how to check email in Cpanel?
The tab right next to Add Email Account would be Email account which will show you the email account just set up.
Click on Access Webmail to view the email account.
How to connect your Cpanel Email to Gmail?
Go to the Email Account tab, click Connect Devices, and click on the Setup Mail Client. After being redirected, scroll down to Mail Client Manual Settings. Going with the SSL/TLS settings (the blue box) is advisable as it is more secure than the non-SSL settings (the yellow box).

After deciding whether you want to link the Cpanel email to a brand new Gmail account or an existing one (if one wants to connect it to a brand new email, make one on Gmail, it is a pretty straightforward process), go to your Gmail account and click Settings.
Go to the Accounts and Import tab and hover over to check mail from other accounts.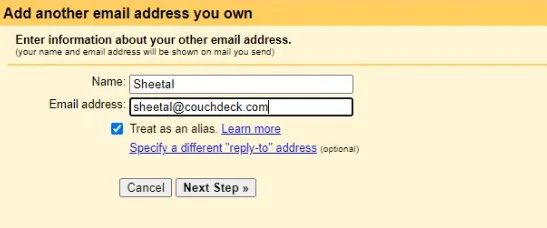 Click Add a mail account present in that tab. Add your Cpanel email address in the yellow pop-up and click next.
Since your email address is Cpanel and not Gmail, select import emails from my other account (POP3) and click next.
Here comes the technical part, but fret not; all this info is available on your Cpanel in the blue box we had opened earlier.
Fill in the details and click add account; when asked whether you want to send and receive emails, click yes and click next.
The next step would require you to fill SMTP server (this is the server your account has been hosted on) and again type your Username, Password, and port number (select 465), fill those from the blue box, and click add account.
You will receive a verification code on your Cpanel email, enter the code and click verify. Upon entering the correct key, you will have your Cpanel email linked to Gmail.
How to Login to your Cpanel email?
For convenience and differentiating it from Gmail, Cpanel emails are called Webmails. There are two methods to log in to webmail (Cpanel and port 2096). Let us see how to log in and check emails in Cpanel using these two methods.
Cpanel email login via Cpanel
Navigate to the email accounts section and click Check Email beside the webmail one is interested in. And you will find the emails, and it is as simple as that.
Cpanel email login via port 2096
Every domain has a unique IP address to it. But remembering IP addresses could be a task; instead, type your domain name and 2096. For example, suppose your domain name is RickyMort, type rickymort.com:2096 and you will be redirected to the webmail login page. Type your username and password, and voila! You're in!
How to Send and Receive mail from your professional mail via Gmail
How to Send Workmail on Your Gmail
Go to settings, click on accounts and import
Hover down to send mail, and click on add another email address.
In the yellow pop-up window, assign a name to your workmail and enter the workmail address. Select the option of a treat as an alias and click the next step.
Here you will set up an SMTP server. Don't fret; all the necessary information is available in the blue box on the Cpanel website. All you need to do is copy-paste.
Once done, select the secured option using SSL and click add account.
Enter the correct verification code and go back to the accounts and import section.
For our convenience, select the option of reply from the same address message sent to when replying to a message heading.
And there you have it, and now you can send your workmail emails from Gmail!
Select the sender id from the drop-down menu, and you are good to go!
How to Receive Workmail on Your Gmail
Once you have synced your cPanel webmail with Gmail from the process above, scroll down to check mail from other accounts and click on add another email.
Add your Cpanel webmail here and further details from the blue box on the Cpanel website.
Once the setup is ready, you can receive all your workmail emails in your Gmail account.
Should you buy professional emails differently?
Professional Emails are an integral part of any organization. A domain-specific email id makes it look very professional and helps declutter professional and personal emails from a single email id. But getting a professional email id can be an expensive task. Let us compare a few professional email providers. Let us start with google; Google workspace gives professional email addresses at ₹125/month, whereas GoDaddy costs ₹49/month. These rates are per user per month, meaning if you have a team of 20 members, buying google workspace would cost you ₹2500/month, and buying GoDaddy webmail would cost you ₹980/month. On the other hand, Couch Deck Shared hosting offers you unlimited webmail accounts at ₹799/year! Don't believe us; check the prices and benefits provided below.
Google Workspace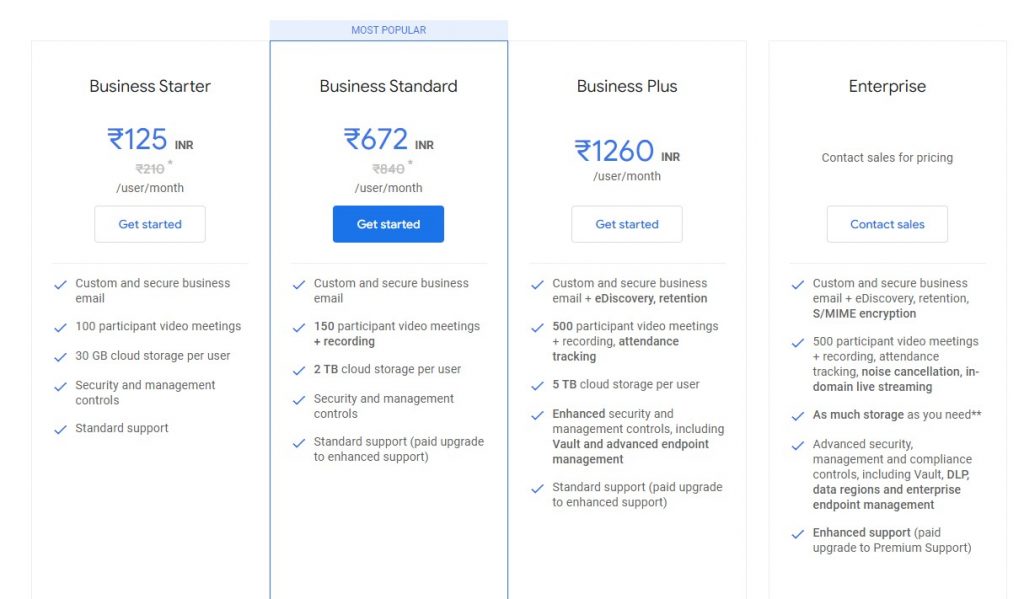 Earning maximum profit starts from small savings, so choose wisely while buying a professional email.
Difference Between Gmail Business Email and Cpanel Email
Gmail business emails are probably the most widely used professional emails and for a good reason. They offer the flexibility of use over various devices, can be easily synced with different apps, and are effectively zero maintenance. Plus, they provide a complete package of google drive (with a storage capacity controlled by you), google meets, google contacts, instant messaging over Gmail chat, email, and more.
Cpanel may not be as famous as google workspace, but it has more perks. It is a web hosting page and not just an email service provider, meaning you can control all of your online business traffic from Cpanel. This comes with the added benefit of hosting email via POP3. But what trump's Cpanel over Gmail is that you can link your Cpanel with google email and enjoy all of the google workspace perks utterly free of cost! The only downside of Cpanel is that one needs a preliminary knowledge of Linux to control the page. In contrast, Google workspace is dumbed down to the extent that even a school kid can run their professional domain.
So if you are a professional seeking to buy a domain and professional emails, consider Cpanel as your go-to web host. Do not forget to connect Cpanel email to Gmail for better convenience! Happy business to you.
CouchDeck is a trusted brand providing comprehensive digital marketing solutions designed to fuel business growth. As specialists in diverse areas such as SEO, Google Ads, Facebook Ads, SEM, Web Development and Hosting, YouTube Marketing, Local SEO, and Social Media Marketing, CouchDeck has an established track record of delivering consistent, impactful results. Serving a clientele of over 300+ satisfied customers across India, United States, Canada, and Australia, We are committed to helping businesses flourish in the digital landscape. For a FREE consultation, please reach out to us via email at [email protected].