Search Engine Optimization or SEO, also known as the process of helping you rank your website higher on search engines, has come a long way. SEO includes optimizing your website's content and technical configuration to improve the traffic to your site. To do so, there are several tools to help you build the perfect website for your product or service. Two of the most widely used hosting sites are WordPress and Shopify. In this article, we will explore the difference between the two and how each one can benefit you.
What is WordPress?
WordPress is one of the most popular tools used by companies to create websites and blogs. It is accessible to everyone, and most of its features can be used at no additional cost. It is important to note that you still need to pay certain other costs like hosting charges and domain registration fees. WordPress is available as Hosted WordPress as well as Self-Hosted WordPress.
What is Shopify?
Simply put, Shopify is a platform that allows people to set up their businesses online to sell their products. On Shopify, merchants and entrepreneurs can easily create, manage, and operate an online store. From physical products to digital ones to services, memberships, and consultations, you can market almost anything on Shopify.
This brings us back to the first question
Which is better for SEO – WordPress or Shopify?
WordPress SEO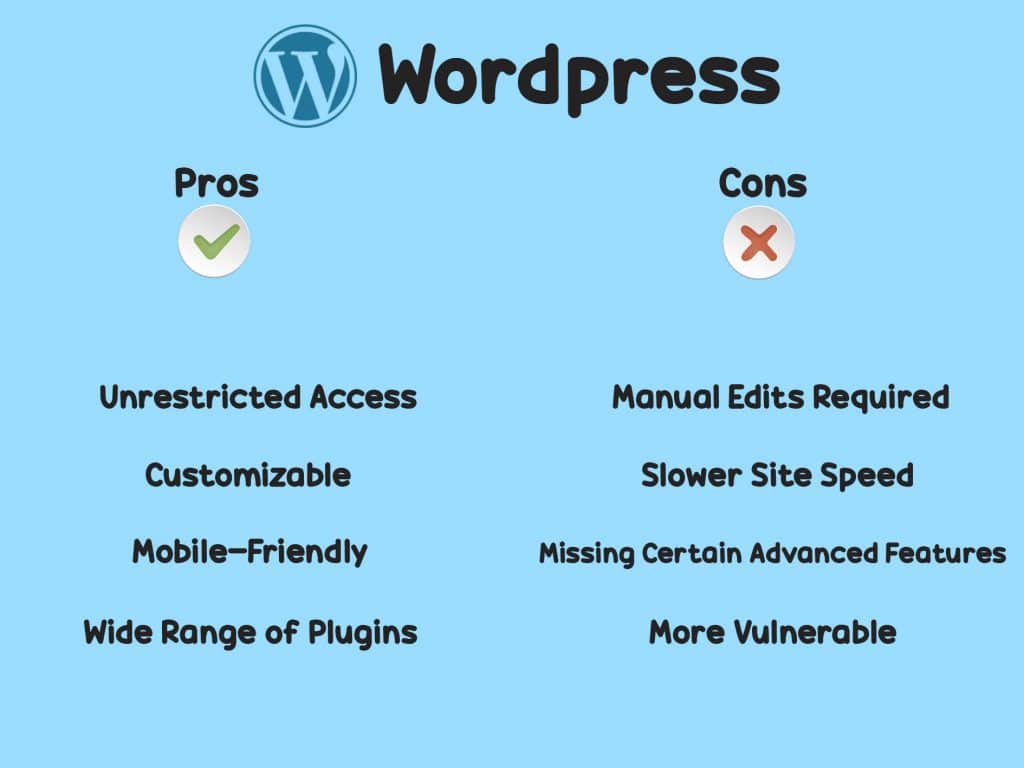 Pros of WordPress
Unrestricted Access – WordPress or WooCommerce is an open source and free of cost. There are no initial or ongoing licensing fees, making it the first choice for start-ups and businesses with smaller budgets.
Customizable – One of the many benefits of WordPress is that you can choose from several customizable themes! You can redesign everything, including headers, footers, and site pages. With WordPress, SEO becomes easier as you can optimize your website to meet certain search-engine requirements.
Mobile-Friendly – The designs available on WordPress are all mobile-friendly. In an era where we use our cell phones to look for almost anything and everything, this becomes a key advantage for WordPress. It also makes WordPress good for SEO.
Wide Range of Plugins – WordPress also has a range of SEO plugins, making it easier for sellers to showcase their products. WordPress also gives you access to the Yoast SEO plugin, which is one of the most used plugins for SEO.
Cons of WordPress
Manual Edits Required – WordPress requires way more manual edits than Shopify. This makes it a little more difficult if you do not have prior knowledge of web development. You will also need a certain level of coding knowledge if you are looking to customize your website.
Slower Site Speed – On account of the number of plugins, WordPress tends to have more performance issues, and its loading speed is slower than Shopify. It can adversely affect your SEO campaigns as your website's loading time is one of the factors considered by Google's algorithms.
Missing Certain Advanced Features – In comparison to Shopify, WordPress lacks certain features that can help businesses customize their online stores. Thus, using the site purely as an e-commerce site becomes difficult.
More Vulnerable – WordPress is more susceptible to spammers and hackers, thus making websites less safe. This, too, can negatively affect your credibility and, in turn, affect your SEO rankings.
Shopify SEO
Pros of Shopify
Extensive App Store – Shopify has an in-house app store that gives users access to several Shopify SEO plugins and functionalities that can be added to a store. You can add reviews and wishlists or even use them for accounting and inventory management. Shopify's SEO plugins have proven to be valuable for all kinds of businesses.
Faster Loading Time – Compared to WordPress, Shopify has a much faster loading time. Customer check-outs at the time of payment are also much faster with Shopify. As mentioned earlier, this can also affect your SEO rankings.
Better Security – Shopify uses SSL encryptions to ensure the security of customers using the site. They also look after PCI compliance for you and hire cybersecurity professionals to oversee their websites.
Customer Support – Shopify is known for its 24/7 Customer Support. They have a quick response time, and users are given access to several forums, FAQs, and other documents that can help them solve any issues that may arise.
Cons of Shopify
Registration Fees – Shopify has subscription plans even for the most basic features. Users are given access to only a few themes and have to pay separately to use the others. There is even a fee if you don't opt for Shopify Payments. Hence, if you do not have a high budget, this can get costly.
Fewer Customizations – Shopify allows users without any technical knowledge to design an online store. However, while there are customizations available, in order to make the most of those offered, a certain amount of coding knowledge is required, or the features will remain locked.
No E-mail Hosting Facility – Shopify does not have an e-mail hosting facility, and it only provides you with a platform to set up your store. However, it does have a feature that allows you to set up a custom e-mail forwarding address.
Limited Blogging – In comparison to WordPress, Shopify has fewer blogging capabilities. With a focus on online shopping, its features for the above are limited. Considering how important blogging is to Search Engine Optimization and a website's rankings, Shopify may not always be good for SEO.
Hence, to answer the question of – 'Which is better for SEO – WordPress or Shopify?' – several factors need to be considered. It also depends on your business requirement, which can vary from user to user. If content management is more important – WordPress may be better. However, if it is e-commerce that you are looking for – Shopify may be the way to go. Shopify may not always be good for SEO, but it has other advantages like support and security. WordPress, on the other hand, is more flexible, affordable, and SEO-friendly.
At Couchdeck Digital Marketing, we cater to both WordPress and Shopify websites, so feel free to contact us to find the right solution for you! For more details, you can speak to one of our representatives on +91 22 4148 3000 or drop an e-mail to [email protected].